Ritterwebshop Dragonheart
Seit mehr als 20 Jahren ein Begriff in Europa!
Meine Bestellung
0 ProdukteProduktProdukte
Bestellung anzeigen
Produkt zur Bestellliste hinzugefügt
Zurück zur Übersicht
Wikinger Gurtel in Dunkelbraun Leder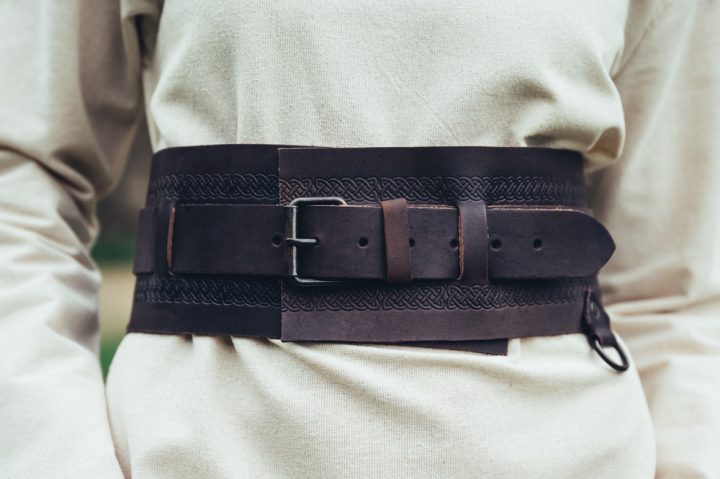 Wikinger Gurtel in Dunkelbraun Leder
75.95
Zur Bestellliste hinzufügen
Produktcode: LC-1349 donkerbruin
Wikinger Gurtel in Dunkelbraun Leder.

100% leder
Lieferbar in die nachste langen: 90, 100 of 120 cm
Viking Belt extra info:
The high-quality and noble Viking belt is very detailed processed.
It consists of an approx. 3.5 cm wide belt, which is pulled through a total of approx. 11 cm wide piece of leather.
At the belt you can pull through different things like bags or horn holders.
The belt part runs through a total of four loops slit in the belt. The main leather piece of the belt was lovingly decorated by hand with Celtic hallmarks.
Likewise, a total of three half rings at the lower part of the Viking belt are connected by leather pieces. Various additional accessories can be hung on them.
The noble belt can be adjusted up to 15 cm tighter thanks to the bronze-colored brass buckles.
For example, if you choose size 100 cm, the belt can be adjusted up to 85 cm.
Care instructions
To remove coarse dirt, it is usually sufficient to circle over the leather with a dry or slightly damp cloth or to brush away the dirt residues with a dirt brush.
The belt should be moistened evenly.