Ritterladen Dragonheart
Der größte Rittershop von Europa
Meine Bestellung
0 ProdukteProduktProdukte
Bestellung anzeigen
Produkt zur Bestellliste hinzugefügt
Zurück zur Übersicht
Pfanne 20 cm DHBM-1962066920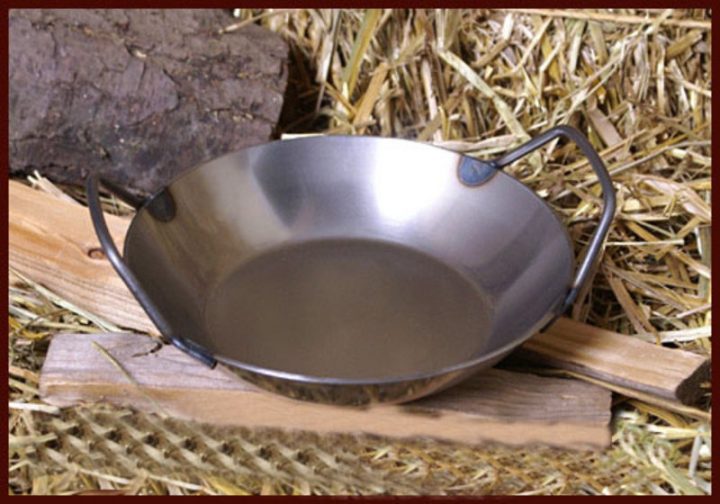 Pfanne 20 cm DHBM-1962066920
19.95
Zur Bestellliste hinzufügen
Produktcode: DHBM-1962066920
Serving pan with extra high edge and welded grips, approx. 20 cm

With extra high edge Welded grips
weight: ca. 0,9 kg
bottom: ca. 13 cm
top: ca. 20 cm

Directions for Use:

For turk Iron Pans

Before the first use please read the following :

You, too, would certainly like to take optimal advantage of the excellent frying
properties known by professional cooks, namely

- the meat remains juicy
- the fried potatoes become crispy
-low consumption of energy by good conductivity
-high durability

Therefore please observe the following recommendations :

Before the first use please remove the corrosion protection. Fill hot water into
a basin, add washing powder (f.e. Persil), dip the pan into the water for some
minutes and remove the remaining protection coat with a brush - nearly all of it
comes off by itself.

Afterwards, dry the turk iron pan and vigorously fry raw potato skins or slices liberally
sprinkled with salt in either oil or shortening for a while. Then pour out the contents
and heat the turk Iron pan once again with some sweat oil for a short time. Now rub
out the pan with dry kitchen paper. Your turk pan is now ready for use.

For further use please note the following :

Take care that the stove plate has the right size ? it should not be smaller than the
bottom of the pan.

Heat oil and frying pan first - then fill in meat, potatoes or vegetables, fry briefly and
continue stewing at reduced temperature. Through this juices and aroma are best
preserved.

After use wipe the turk iron pan dry with paper towels. In refractory cases rinse it with
hot water - let dry thoroughly and lightly grease the frying pan (with bacon rind or
greased rag.)

We wish to you through use of this pan many years of enjoyment and a good appetite.