Ritterladen Dragonheart
Der größte Rittershop von Europa
Meine Bestellung
0 ProdukteProduktProdukte
Bestellung anzeigen
Produkt zur Bestellliste hinzugefügt
Zurück zur Übersicht
Three Band Enfield Musket DHBM-2367105600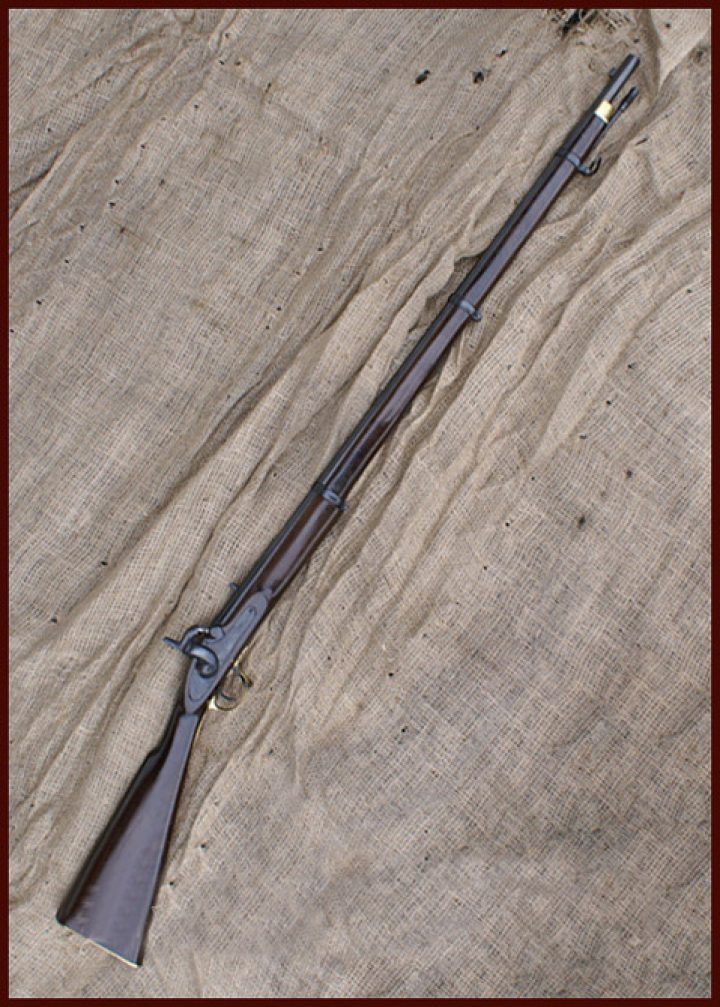 Three Band Enfield Musket DHBM-2367105600
379.95
Zur Bestellliste hinzufügen
Produktcode: DHBM-2367105600
Three Band Enfield Musket 1853

The three band Enfield musket or Pattern 1853 Enfield was used by the English from 1853 to 1867 and was very popular with the confederates too. It?s been the first weapon manufactured in Enfield. The Royal Small Arms Factory had moved their factories to this district in the north of London after the fire in the Tower of London. In spite of its name musket it?s not a smooth-barrelled rifle but had three grooves. Ranges up to 1000m could be reached with high accuracy. All the European armies used this weapon to adapt grooved rifles for their riflemen. It was also very popular with the American generals. With cal .58 it could be used with British ammunition as well as American.
The rifle saw its first military service in the Crimean War from 1853 to 1856. It proved to be reliable and accurate, so the sight had even been enlarged from 900 to 1000 yards in the second production run.

Our beautiful replica is very close to its master: oil-finished wooden stock, original-style barrel bands and blued barrel. The Enfield is accented with brass butt plate, trigger guard and nose cap. The \"V\" style mainspring in the percussion lock and military-style sights complement this fine musket.

Our musket replicas are intended for decoration or reenactment. The muzzles have not been drilled, so the weapon is not functional.

A beautiful item for every collection and an indispensable accessory for re-enactors.

Details:
- Total length: approx. 132 cm
- Barrel length: approx. 91.5 cm
- Weight: approx. 3.1 kg
- Bore: .58 cal.