Ritterladen Dragonheart
Der größte Rittershop von Europa
Meine Bestellung
0 ProdukteProduktProdukte
Bestellung anzeigen
Produkt zur Bestellliste hinzugefügt
Zurück zur Übersicht
Roman Schale DHBM-1974181920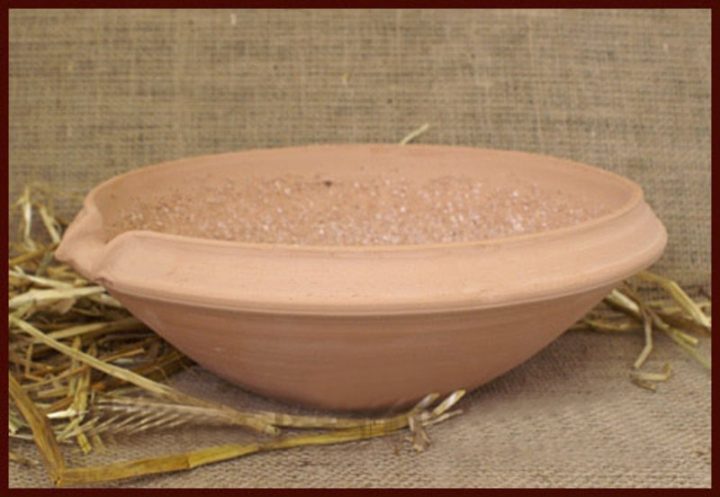 Roman Schale DHBM-1974181920
79.95
Zur Bestellliste hinzufügen
Produktcode: DHBM-1974181920
Rasp bowl, terracotta.

This bowl has been produced in long and complex procedures of handcraft in Germany and now shows an enjoyable contrast to many of the imported and machine-made products on the market.
The quality, the accuracy and the pleasure of manufacturing in traditional kind and in copying true to original, are visible and convincing.

People didn't use this rasp bowl as crockery but as a kitchen tool, which helped to produce cheese or Moretum (feta cheese with herbages), spices, sauces or dough.

Height: approx. 9,7 cm
Weight: approx. 2,25 g
Circumference, widest part: approx. 92cm

Terra Sigillata

Terra Sigillata hasn't been used as everyday's tableware but only for special occasions.
Only a few shapes like bowls, plates, cups as well as beakers and jars were used as eating- and drinking-tableware.

Terra Sigillata (sealed earth/ clay bearing little images) is high-class tableware with a red, silk- shimmering surface. Behind silver and bronze this fine pottery was the most representative crockery.
At the times of the Roman Empire the yearly production expanded to more than one million exemplars, which were exported to Germania libera, Britannia and even to the Black Sea.

Archaeologists get valuable knowledge about the opulence of forms and decorations of the crockery and about the names of the potters, who sometimes stamped their works, out of jars that couldn't stand the quality check and were
thrown into the rubbish pits.

Blank Sigillata
These items were basically formed without any decoration.

Chip carving Sigillata
The decoration had been cut with different cutting tools
into the surface.

Sigillata with Barboutine-Paintings
Slip decoration was painted onto the leather-hard clay body surface with a slip trailer.

Relief Sigillata
Relief-Sigillaten were rotated in biscuit-fired, porous form bowls, which were fixed on the potter's wheel.

Rough Pottery
These jars (e.g. the rasp bowls) vary from the Sigillata-ware.
More course-grained clay is used and the jars are burnt without the use of clusters.