Ritterladen Dragonheart
Der größte Rittershop von Europa
Meine Bestellung
0 ProdukteProduktProdukte
Bestellung anzeigen
Produkt zur Bestellliste hinzugefügt
Zurück zur Übersicht
Marto Kapstok Ophang Systeem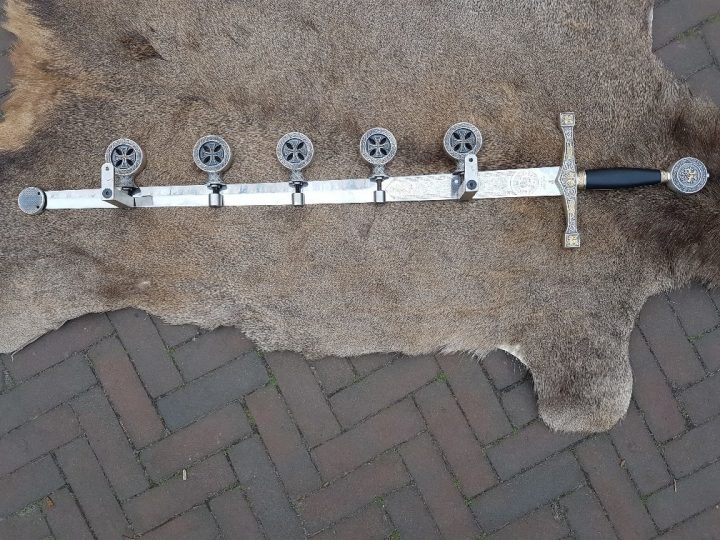 Marto Kapstok Ophang Systeem
295.00
Zur Bestellliste hinzufügen
Produktcode: M-8710
Anbietung!
Von:
695.00
Jetzt für:
295.00
Marto Zwaard Kapstok systeem.
Deze is gebruikt, maar ziet er super mooi uit!
Overall Dimensions: 188 x 23 cm
Overige info:
The Templar Knight Horizontal Sword Coat Rack by Marto of Toledo Spain is made from one of the most appreciated swords, the Templar investiture sword totally made in Toledo's steel, and from a genial design work here to you a coathanger really unique and different.

On all the sword elements are exalted a lot of Templar images, from the hilt finely decorated and rich of traditional Templar symbols highlighted by the 24K Gold plating, to the blade that shows an elaborated black decoration with pattee crosses and on wich are fixed five elements to hang your clothes realized in silver plated metal, each one engraved with the Templar Cross (or Pattee Cross) and with entwined medieval style decorations.
All the charm of a real templar sword mixed with the practicality of functional furniture with a captivating design makes this item another essential collectible piece for all the fans of this famous order.